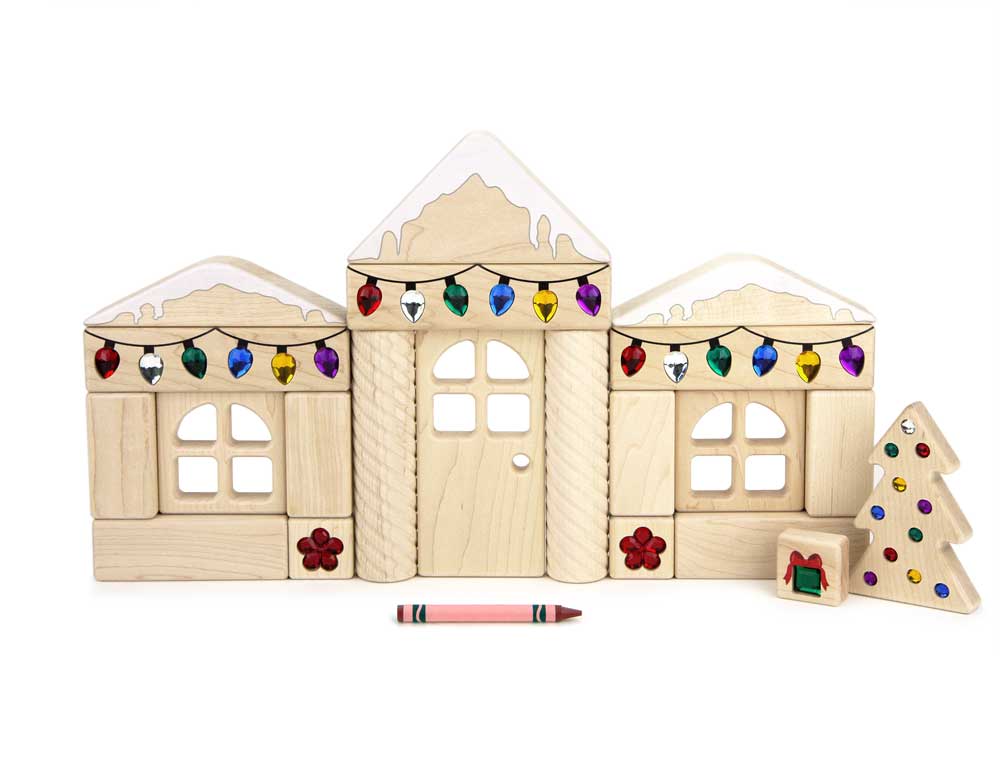 LIMITED! 24 pc. Christmas Countdown House Maple Building Blocks
Everwood Friends item: 22267
LIMITED TIME AVAILABILITY.
This item ships FREE!
View all Everwood Friends™ Winter & Christmas Collection.
Who's ready for Christmas? This 24 piece Christmas House is the perfect gift for a Christmas-loving family. The 24 piece collection can be given all at once, or consider giving one piece a day as you count down to Christmas. Use it to fill your Advent calendar, or wrap a piece each day and add it to your house. Need building instructions? Check out our building video on Instagram @everwood_friends!

Everwood Friends™ 24 pc. Christmas House features many special blocks, including several with acrylic gems securely inset on one side, and some blocks not available outside this set!

Thanks to our precise unit geometry, as your builder gets older, these blocks will work seamlessly with all other blocks and expansion sets from Everwood Friends™. These blocks will be heirlooms, lasting for generations to come.

Makes a beautiful stand-alone set or addition to a block collection. We hope our blocks will bring joy to the little ones in your life!
CHOKING HAZARD - Small parts. Not for children under 3 years.
Contents
24 blocks with acrylic gems inset and printed with durable kid-safe ink on 1 side:

Largest block: 5-1/2" x 2-3/4" x 1-3/8"
Smallest block: 1-3/8" x 1-3/8" x 11/16"

Attractively packaged and ready for gifting.

Craftsmanship & finishing
Our blocks are solid maple wood toy building blocks, precision made in the USA.
Hard maple is the perfect wood for toys given its high density, hardness, and tight grain that reduces splinters. You will love the weight of these blocks!
All edges are carefully rounded for safety and hand sanded for a beautifully smooth feel.
Our blocks are not painted or stained for a natural beauty and durability.
Shapes
Every shape and edge is based on a precise unit. This means every block, in every orientation, will simply line up with all the other blocks no matter how tall or wide a structure is.
Everwood Friends™ blocks are based on a 1-3/8" unit, the same as standard kindergarten blocks you remember.
A Learning Experience
Large wooden blocks are ideal for teaching hand-eye coordination and fine motor skills.
Develop spatial reasoning skills.
Allow your child to play creatively, combining their blocks with other popular toys or their own imaginative games.
Blocks are an ideal social toy - the more kids (or grown kids!) building together the more fun.