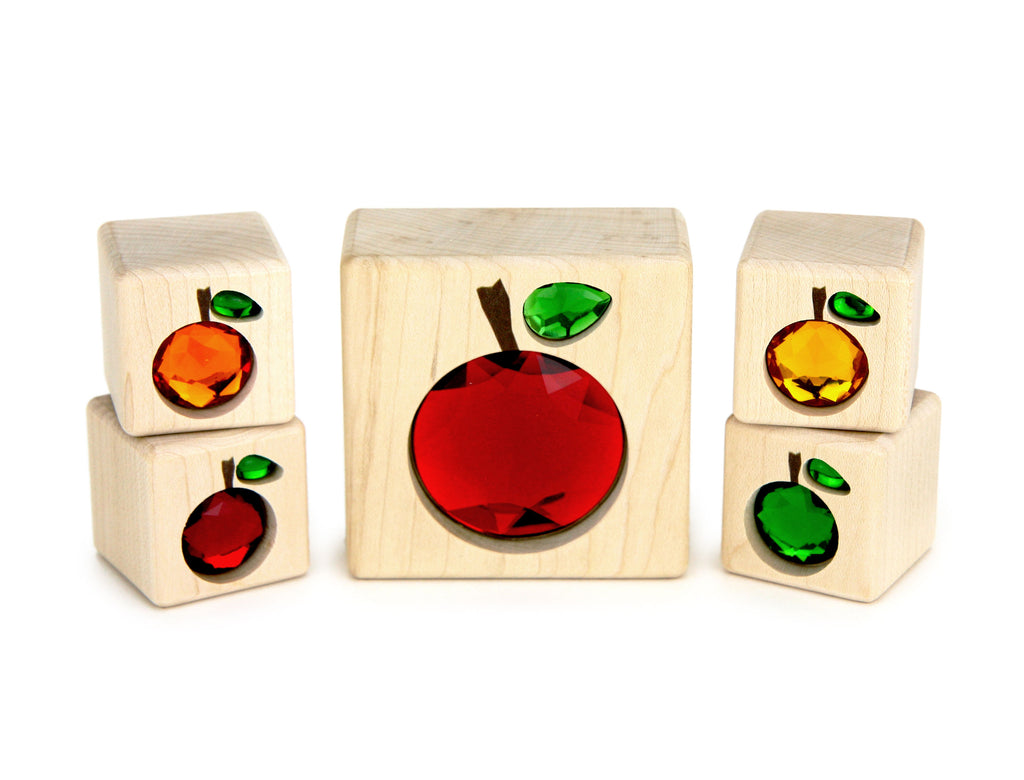 LIMITED! Autumn Apples 5 pc. Gem Message Blocks
Everwood Friends item: 23090p
LIMITED TIME AVAILABILITY. Explore our entire Autumn collection here.
This item ships FREE!
Add extra sparkle and fun to autumn for your little one with these beautiful building blocks! Each of the blocks in this set are printed with curable, kid-safe ink and have acrylic gems securely inset on one side.
You can even add a special message engraved on the reverse side of the large block!
The precise dimension of these blocks match those of standard unit blocks, making them integrate perfectly with all other Everwood Friends™ building blocks.
Gem blocks serve as great additions to decorate castles and palaces, and as a stand-alone gift. These lovingly crafted blocks will be heirlooms, providing endless hours of fun and creativity for generations to come!
CHOKING HAZARD - Small parts. Not for children under 3 years.
Contents
5 solid maple blocks:
4 cube blocks, each with acrylic gems securely inset on one side

Unit geometry: 1 x 1 x 1
Dimensions: 1-3/8" x 1-3/8" x

 

1-3/8"

1 large block with acrylic gems securely inset on one side

Unit geometry: 2 x 2 x 1
Dimensions: 2-3/4" x 2-3/4" x

 

1-3/8"
Craftsmanship & finishing
Our blocks are solid maple wood toy building blocks, precision made in the USA. Acrylic gems are imported.
Hard maple is the perfect wood for toys given its high density, hardness, and tight grain that reduces splinters. You will love the weight of these blocks!
All edges are carefully rounded for safety and hand sanded for a beautifully smooth feel.
Our blocks are not painted or stained for a natural beauty and durability.